5. Festival NN – Neue Narrative: 22. April- 24. April
Unter dem Titel 'Zuversicht und Zweifel' bringt Festival NN Produktionen und 'work in progress' Beiträge zusammen, um in gemeinsamen künstlerischen Reflexionen zu erfassen, was uns bewegt – worauf wir bauen und vertrauen?
Wie bringen wir unsere Wut und Empörung zum Ausdruck: Erstarren oder Aufbegehren, Zweifel oder Hoffnung?
Eintritt: 10 € / 6 €
Tageskarte (Sa. / So.): 15 € / 10 €
Reservierung: tickets@expedition-metropolis.de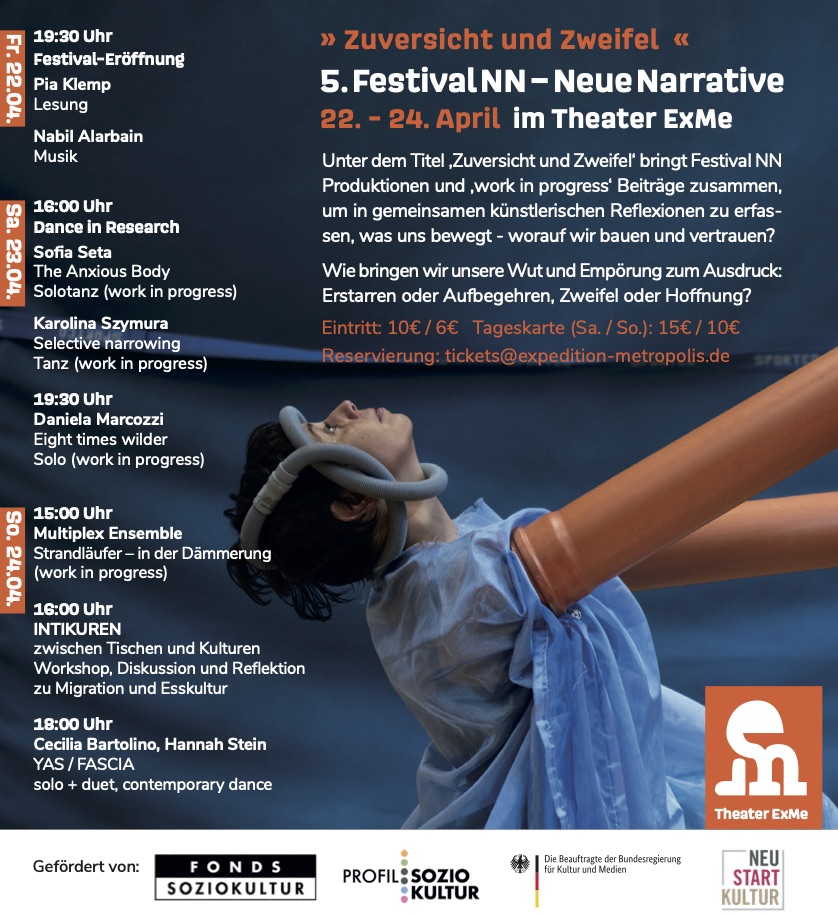 PROGRAMM
Freitag, 22. April 2022
19.30 Uhr 
Festival-Eröffnung 
Pia Klemp Lesung
Nabil Arbaain Musik
Habe Wut, dich deines eigenen Verstandes zu bedienen
Pia Klemp, Kapitänin, Aktivistin und Seenotretterin, fordert mehr Wut von uns allen. Wut, die zu Engagement führt, die uns antreibt, zu ändern, was schiefläuft. Es scheint, wir leben in wütenden Zeiten: Frauen fordern ihre Gleichberechtigung mit Männern, People of Colour die ihre mit Weißen, junge Leute einen verantwortungsvollen Umgang mit unserem Planeten, Menschenrechtsaktivist*innen ein humanes Verhalten gegenüber Geflüchteten. Das bringt ihnen Aufmerksamkeit ein. Aber nicht unbedingt Wertschätzung oder Verständnis.
Benachteiligte sind nicht wütend, sie sind hysterisch. Nicht ernst zu nehmen. So scheint es. Und es ist an der Zeit, dass sich das ändert. Wut ist ein Werkzeug, das wir nutzen können, um Wände einzureißen, anstatt sie hochzugehen. Ein Impulsgeber, der aufzeigt, was uns wichtig ist. Denn wer nicht wütend ist, hat nur noch nicht richtig aufgepasst.
---
Samstag, 23. April 2022
16 Uhr
Dance in Research
Sofia Seta
The Anxious Body
Solotanz – (work in progress)
"Sometimes your body has these emotional anniversaries that your brain cannot put into words.
You just feel the memories in your bones and your skin in your heart"
Duration: 10 min
Karolina Szymura
Selective narrowing
Tanz – (work in progress)
In order for information to become conscious and accessible for us, we need to shift our attention to it. Attention is the cognitive process that selectively concentrates on one aspect of information from the external or internal environment while ignoring others. Their is a huge amount of sensorial information that is happening in our bodies at all times in which we have physiological limitations in our capability of processing. The practice of attention helps us to select which information to process bringing it into consciousness.
During our last research at Expedition Metropolis we looked at ways of shifting attention enabling us to focus, and zoom in to particular information.
By limiting our visual and audial sensory information we brought attention to the processes that are already mechanically happening within our bodies, challenging our awareness by focusing on the continuous shifts that are present.
19.30 Uhr
Daniela Marcozzi (Marcozzi Theater)
Eight times wilder – Otto volte più selvaggio
Solo – (work in progress)
different languages (English, Italian and other)

After the experience of the expedition in Italy and the two projects "On Urgency" in Berlin, I have collected a wide range of results about the relation that we – humans – have with the rest of nature and I have been studying this topic reading about deep ecology, systemic biology, indigenous cultures and lifestyle.
Starting from this premise I propose a solo-performance with spoken words and movement, which consists in a dialogue between a person and a beached whale. The dialogue focuses around the need of the humans to kill the beached whale not to make it/her suffer. The perspectives and contradictions of the whale and the humans will be explored with poems, theatrical texts, music and movement.
Duration: 30-40 min
---
Sonntag, 24. April 2022
15 Uhr
Multiplex Ensemble
Strandläufer – in der Dämmerung
(work in progress)
Auf der Suche nach Haltung, wenn es wie bisher nicht weitergehen kann
Erzählungen und Minidramen am Scheideweg.
Duration: 20 min
16 Uhr
INTIKUREN
zwischen Tischen und Kulturen
Interkulturelles Kochen
Workshop, Diskussion und Reflektion zu Migration und Esskultur
18 Uhr
Cecilia Bartolino, Hannah Stein
YAS / FASCIA
solo + duet, contemporary dance

YAS: In this solo I'm researching the significance of belonging, identifying, and adapting. I ask
myself; can we adapt to the ideas and practices of the outside situation without feeling
alienated from ourselves? How do the many factors such as religion, gender and culture
connect all of us, while we find our personal identity? Why is it so important to feel accepted?
Will this make us more lost? We are breaking stereotypes, we pursue freedom, but why? Then
this common need of belonging to a place, a definition, a word, a label, a group of people.
Maintain the same beliefs, dreams, and passions? I sense a dualism, which is where my
research starts.
FASCIA: Is a duet about connection as much as it is about separation. It's about the
substance that binds us both to ourselves and to each other, a biological fabric under skin,
that fills unoccupied spaces. It's inevitable, inescapable and malleable, it stores and
releases elastic potential energy. We are fascia; stretching and supportive, surrounding and
stabilising, strong and sensitive.
Duration: 25 min, english
Das Festival NN 2022 wird gefördert durch:

---
Festival NN 2020
Was bewegt uns, was berührt uns? // What moves us, what touches us?
Das Festival NN – Neue Narrative ist ein im Theater ExMe entwickeltes Format, das die Potentiale von Community-Kunst zur Gestaltung von Zukunft erforscht. Aus multiplen Perspektiven geben die Performances Anlass zu Reflexion und Dialog, zur Recherche und Erprobung zeitgemäßer politischer Narrative.

The festival NN – New Narrative is a format developed in the theatre ExMe that explores the potential of community art for shaping the future. From multiple perspectives, the performances give rise to reflection and dialogue, to research and testing contemporary political narratives.
It takes place once a year at the end of March.
The next festival NN must be postponed to probably the end of March 2021.